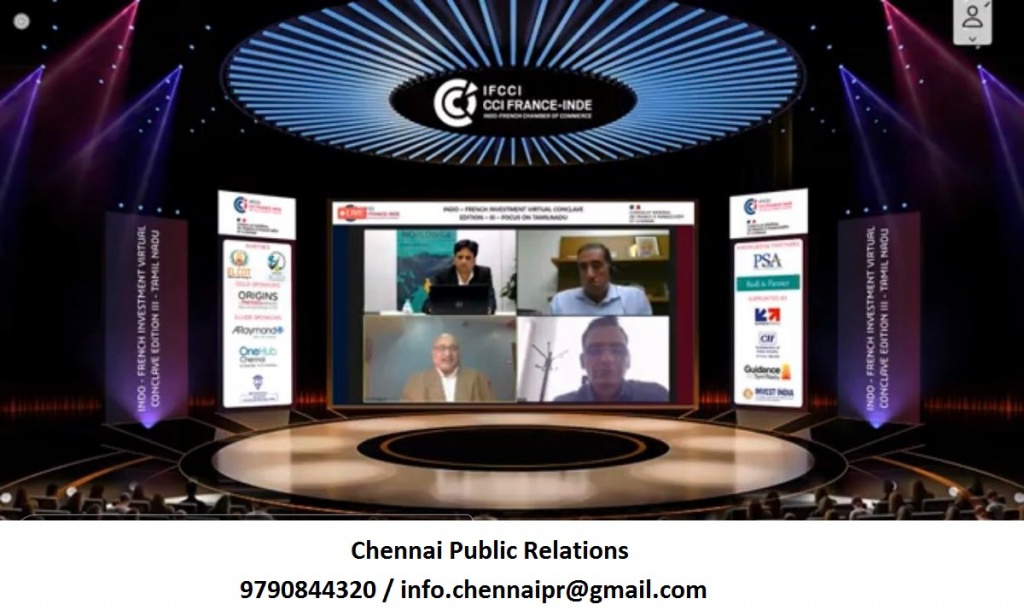 Chennai, 2021: The Indo-French Chamber of Commerce& Industry (IFCCI) organized the 3rd edition of its flagship event, the Indo-French Investment Conclave focusing on the State of Tamil Nadu on 11th& 12th February in a virtual format. The earlier successful editions of the Indo-French Investment Conclave were organized in Nagpur & Goa in 2018 & 2019 and led to major French investments in India in sectors such as Hospitality, Green Energy, Defence& Aerospace. IFCCI Investment Conclaves are organized to showcase investment opportunities in promising Indian states and to attract French Investments and boost Indo-French trade.
IFCCI organized the Indo-French Investment Conclave focusing on Tamil Nadu which is already an important industrial hub for leading French firms such as Saint Gobain, Valeo, Renault, and so on. The conclave focused on promoting the conducive business environment, state-of-the-art infrastructure, proactive governance and favorable ecosystem. The agenda of the Conclave was to create a strong platform to showcase the advantages of the State of Tamil Nadu to the Indo-French business community in France & India. This virtual conclave enabled B2G & B2B meetings to discuss the opportunities & showcase strengths of Tamil Nadu.
The Event was supported by the Government of TamilNadu, Embassy of France in India, Consulate of France in Chennai & Pondicherry, ELCOT, M-TIPB, Business France, Guidance, Invest India & CII and was attended by Senior Govt officials, Indian National and State authorities, policymakers, top private sector players from India and France, multilateral agencies and eminent industry experts.
Dr. Neeraj Mittal, (IAS), MD & CEO, GUIDANCE said "French companies form an integral part of the industrial landscape of Tamil Nadu. Major French players like Michelin, Renault, Engie, Lactalisetc call Tamil Nadu home, representing a diverse array of sectors such as renewable energy, auto manufacturing, food processing and more. We look forward to welcoming more French companies to Tamil Nadu and we are sure that they will thrive here!"
"Tamil Nadu is an important state for existing French companies in India, both as a manufacturing base and an export hub. Through this conclave, we hope to encourage more companies to understand the potential that this state has to offer and today, four French companies have presented LOIs worth 200 crores of investment which is a testament of their commitment to investing in the state" said Ms Payal S.Kanwar, Director General, IFCCI.
"The common will of the Indian and French governments has led to the development of Indo-French cooperation in recent years. The recent visit to Chennai of the Ambassador of France to India, He Mr Emmanuel Lenain is significant of the French will to take steps to make a major partner out of the State of Tamil Nadu. Motivating this diplomatic attitude are the perception of converging interests, a shared vision of the world, and the need for France to shape a strong partnership. We, the "Team France" the Consulate together with Business France and the Indo-French Chamber of Commerce, are accompanying French companies doing business in Tamil Nadu" Said Ms. Lise Talbot-Barre, Consul General of France in Pondicherry and Chennai
Key Highlights of the Conclave:
LOI's worth 200 crs of Investment by French companies signed during the conclave
Special Focus Sectors: Aerospace & Defence, Mobility, Electronics & Hardware, Ease of Doing Business
Insights on the investment opportunities, business advantages of Govt. policies & schemesin Tamil Nadu
Success stories, interesting case studies from French companies already established in India.
Explore & understand ways to enter India including manufacturing, Import/Export, Manufacturing Outsourcing, Contract Manufacturing, Market Study
B2B e-meetings with prospective partners, Infrastructure developers, business associates, Govt agencies, Govt authorities
Roedl & Partner Consulting Private Limited and PSA were Knowledge Partners for the event; Mahindra World City, ARaymond Fasteners, Sri Kailash Logistics, CapitaLand India were event sponsors.