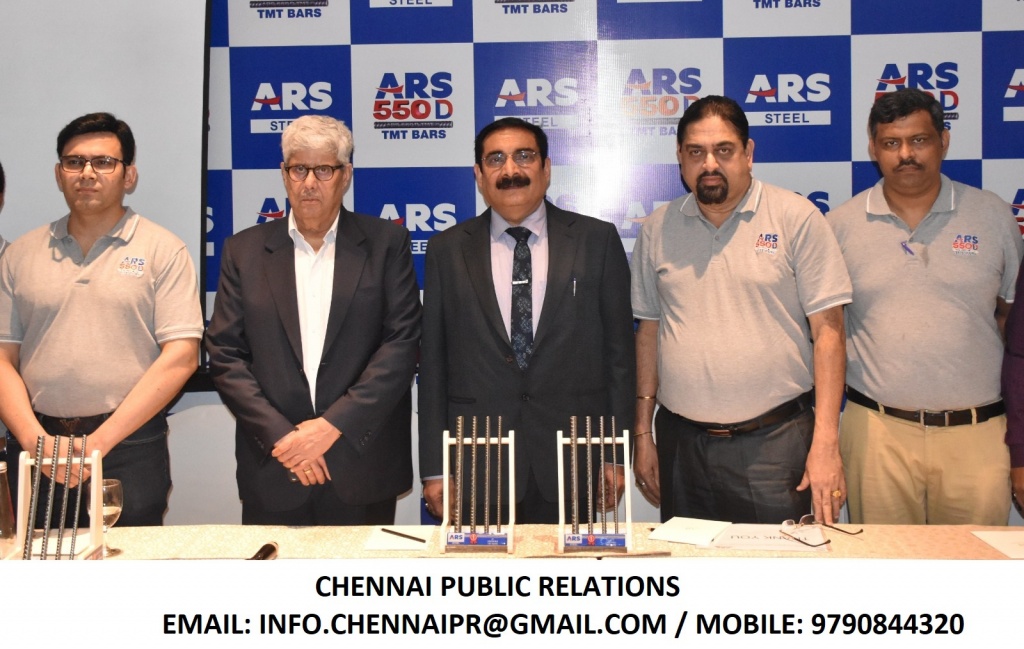 Chennai, 25 July 2023: Leading Quality Steel manufacturer ARS Steels today launched its "Know The Truth" campaign to create the awareness among the general public. For the first time in India, with an investment of around 15 crore rupees, this awareness campaign will be conducted across Tamil Nadu for the next one year through 12mobile tech labs campaign vehicles which is installed with exclusive Spectrometer of German technology to test the TMT bars at the Customer doorstep. ARS Steels "Know The Truth" campaign aims across the state to create the awareness among the TMT Bar purchasers. The special technology installed in these vehicles examines the various aspects of the steel bars such as its chemistry, quality and provide the test report instantly.
Mr.Ashwani Kumar Bhatia, The Founder & Managing Director, ARS Steels said, "Traditionally consumers of building materials and more particularly TMT bars in Tamil Nadu including Chennai have always opted for "Superior quality" material available in India. Post Covid, consumer buying behavior for TMT bars have significantly changed. Noticeably, the quality conscious Chennai buyer apparently is being misled and lured into the 'price' trap. The unaware consumer does not have any means to determine the quality of the product, simultaneously does not comprehend the effect of inferior quality TMT bars on the life of the structures. Concurrently in the internet era, consumers demand transparency in product quality, service, supply chain, raw materials, processes  etc. 'Customer delight' in TMT bar purchase is achieved through a combination of providing an excellent product supported by a satisfying buying experience which is a once in a lifetime purchase".
He added, looking into the above demands, ARS Steels is launching a first of its kind in the industry a campaign that educates and empowers the consumers to buy the right quality TMT bars. In the awareness campaign, the company is investing 15 crores. This includes the cost of 12 mobile tech labs equipped with state of the art spectrometer to test the quality of TMT bars particularly the chemical composition, right at your doorstep.
Chennai with approximate length of 2780 Km Roads and with existing ARS tech-van facility can be covered within a month. Similarly entire length of roads in Tamil Nadu can be covered within a year. The approximate cost of this rod testing will be Rs.1500/- which is provided as free service from ARS. We believe that the consumers have the right to know the truth and no cost be led into buying any product blindly.
In the last 3 years ARS has grown from 1.2 Lakh Ton sale to 1.5 Lakh Tonnes sales over 20% growth. Our annual turnover increased from 560 crores to 900 crores in the last 3 years. ARS plans to scale up by 30% with an investment of approx. 100 Crores in current financial year.
While commenting on ARS "Know Your Truth" awareness campaign launch, Mr. Amitabh, South Head – SGS said, "SGS is the World's leading inspection, verification, testing and Certification Company with 2,650 offices and laboratories globally present in 153 countries.  In ARS, for the last 5 Years SGS have done round the clock support for Consistent D quality production. In-house Testing of every Heat & Batch. Individual Test certificates are provided for every vehicle. Complete inspection from received Raw material to dispatch of final finished product. It gives me great pleasure to participate in ARS initiative. SGS is very happy to participate in such awareness campaign which helps people to identify quality products in this sector and we appreciate ARS for taking up such a whistle-blowing awareness campaign.
In this event, Mr.Ashwani Kumar Bhatia, The Founder & Managing Director, ARS Group, Mr. Rajesh Bhatia, Executive Director, Mr.Sathyanarayana Murthy, Technical Director, Mr.TS. Ragu, Senior General Manager, Mr. Amitabh, South India Head, SGS, Mr.Anoop Hoon, Director from ARS steels & Staffs of ARS group have been participated.
About ARS Group:
Established in the year of 1990, "ARS Steels & Alloy International Pvt. Ltd." are Manufacturer of quality TMT Bar. We dedicate all our efforts and resources to provide excellent quality to meet every customer expectation at all times, presenting the best value proposition (fair price).Shri Ashwani Kumar Bhatia, an Economics Honors Graduate, is the founder and managing director of ARS Steels & Alloy International Pvt. Ltd. and ARS Energy Pvt. Ltd. ARS STEEL. ARS Steels is one of India's major integrated steel plants, located at Gummidipoondi, Tiruvallur District, Tamil Nadu, and an ISO 9001 & 14001 certified steel manufacturers producing Mild Steel Billets for more than three decades& TMT bars for around two decades also having steel industry experience of more than four decades.
Photo Caption: (Left to Right) – Mr.Rajesh Bhatia, Executive Director, Mr.Anoop Hoon, Director, Mr.Ashwani Kumar Bhatia, Founder & Managing Director, Mr.Sathyanarayana Murthy, Technical Director, Mr.TS.Raghu, Sr.General Manager.